Sleeping on the ground in the woods can be dangerous.
The flat spot near the stream seemed like an excellent location to pitch your tent until the monster-midnight-storm hit.
Now, the temperature is dropping, the ground is freezing, and your sleeping bag is soaked.
Suddenly, you realize there's a critter in your tent, and it's chewing your gear to pieces. You thrash about like a fish-out-of-water trying to locate the little menace. In the process you uncover a snake coiled up at the foot of your bag. Oh, snap! Just when you thought things couldn't get worse, you hear heavy panting outside your tent.
The solution to these problems is to think up. Higher. Off the ground. Sleeping in an elevated tent or hammock, far away from potential hazards.
Let's go up! Let's pitch our tent high above the ground, where no other tent would dare to go, suspended from the trees, possibly even over a cliff or overlooking a stream.
Above the Fray
Elevated tents are quick and easy to set up. They also include the features of a regular tent such as a waterproof exterior shell, internal pockets and storage spaces, insect protection mesh, and plenty of room for a great nights sleep.
Hammocks are similar, with the exception that they are usually intended to be used by one person. They also tend to be lighter. However, their swaying can cause problems if you have trouble with motion sickness.
Both can help you stay dry, warm, and safe while sleeping in the woods. They can provide protection against rain, snow, heat and unwelcome wildlife and contribute to maintaining body heat and energy, allowing you to rest, recuperate, and recover.
Now, before we go any further, I can already hear some hard-as-nails old timer (love you guys), saying, "Son I've been sleeping safely on the ground in the woods for longer than you've been alive."
Listen, I have done it many times too, and yes, you can do it safely. That said, these elevated tents provide an excellent quick-and-easy, lightweight option, and the fact that you can hang them in so many unusual places opens up new possibilities.
Additionally, many users have said that they were able to get a fantastic night's sleep, sleeping either on their side, back or stomach. Much better sleep than on the ground.
Rick, (in his 60's) talks about using his elevated tent by Treez Tentz,
"Most of my friends had good hammocks, one said he was going back to a tent so he could turn over when he sleeps. I told him how I could sleep in any position and be well rested the next morning. One hammock ripped and he fell though to the ground in a rain storm, and I just kept on sleeping. I get kind of cranky if I don't get my normal sleep each night. I spent 7 nights in the wilderness without one harsh word! I'll never go back to sleeping on the ground."
Another great feature, according to the guys at Treez Tree Tents, is that these tents can be hung, "…as game watches and blinds, or just for the "sport of tree climbing." Now just imagine that you can go right to sleep in your tree blind if you're so inclined.
SURVIVAL QUICKTIP
When in a survival situation, finding a place to shelter is second in priority only to finding water.
Consider the hypothetical situation of a hiker, unexpectedly lost in the wilderness, who spends the day trying to unsuccessfully start a fire with a bow drill, only to recognize he no longer has the energy to build a shelter. Now, he has neither fire nor shelter. (Note: We are working on a series of articles on how to create shelters in various climates and locals. So subscribe to our newsletter or join our Facebook group and watch for those.)
Elevated Tent Options
[1] Tentsile Flite+ 2 Person Tent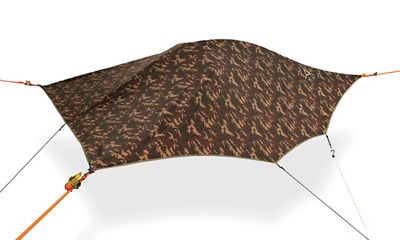 FEATURES:  The Flite comes with only one ratchet to save on weight. Full insect mesh top with two doors and a removable rain fly. Rain fly can be pegged outwards to the ground – creating a covered porch area to become a multi-story camping base 10 Minute set up time.
Available on Amazon and Moosejaw.
 (tentsile.com)
[2] Tentsile Stingray 2.0, 3 Person Tent
FEATURES: 15 minute set-up time, can be suspended from trees or other large anchors, three large bays, Rip-resistant insect-mesh top, floor hatch and large front door, removable rain fly doubles as a porch cover.
Available on Amazon or Moosejaw.
 (tentsile.com)
[video_lightbox_youtube video_id="QQRlkjHT5SA" width="640″ height="390″ anchor="See the Stingray in action in this video review by BohoBushcraft"] 
[3] Treez Tree Tents Alpha (1 person) & Omega (up to 3 people)
FEATURES: Packed in a 7-pound sack (12-pounds for Omega), the U.S.A. Made Treez Alpha's "spider web" of support bands can hold over 4,4o0 pounds (6600 for Omega). Custom fit Fly/Canopy provides waterproofing. Nine zipper heads control air flow and visibility both in and out. Visit website for full description of many more features.
Available only from treeztreetents.com. (802) 928-3010
Hammock Options
If weight is of primary concern, but you still want to enjoy the benefits of getting up off the ground, then a hammock is for you.
Slim and streamlined, at 16 oz., this classic model provides a combination of lightweight portability and comfort. Quick and easy to set up, and keeps you snug and comfortable while enjoying the sun or stars. Combine with our Rain Fly, Bug Net and more for the ultimate tent replacement! This is a well-made hammock that consistently receives high reviews.
Available on Amazon. 
ADDITIONAL QUICKTIPS
Here are some additional tips for staying dry, warm, and safe while sleeping in the woods.
Pack quality wool socks and layers. Happy feet, happy person.
Bring an appropriately rated sleeping bag, or quilt to sleep on in cold temperatures.
Select a location for your camp that is on the lee side or sheltered side of woods, mountains and other such protective features in the landscape that will help protect you from wind and rain, where there is plenty of raw material within easy reach for your fire. Not below a potential landslide. With easy access to water but not too low-lying or in a flood plain, in the case of rising water.
Check for any dead branches that could fall on your head or damage your tent or shelter.
Pay attention to possible fire hazards such as overhanging boughs, peat-like soil or dry grasses.
If you do not carry a firearm, consider carrying bear spray.
Pack hand warmers.
Stuff leaves or other dry material into clothing for insulation if necessary.
Place Pine boughs or other dry materials on your tent or shelter and then cover with an emergency blanket (if available) for additional insulation.
Always, always, always have a firestarter on your person when you go into the woods.